Our teachers are not only teachers, they are your guide, your friend, your mentor into the marvelous journey to Arabic proficiency.
Our teachers are musicians, artists, biologists, engineers, poets, journalists, mathematicians, philosophers, photographs and more. They come from all walks of life, they are carefully selected by Alefb to share their passion bil Arabi, their native language.
Strict hiring process from a large pool of candidates
Our teachers go through a thorough hiring process. Once they are recruited they belong to the Alefb family and are part of our bigger community of #Arabic4Good©. We strive to create a safe and positive environment for our Arabic learners and teachers.
Training and professional development
Alefb believes that teachers are the main assets of a successful program.
We are committed to our teachers' development. All our teachers implement the same methodology and embrace the same Alefb approach. In addition, they are all familiar with the American Standards for teaching foreign languages in the USA (ACTFL Standards) as well as in Europe (Common European Framework of Reference for Languages).
Our teachers benefit from a continuous training, and have access to the same Alefb resources. We all work hand in hand, sharing our experiences and knowledge to stay abreast of the latest development in the teaching of foreign language, in the most efficient manner.
Mohamad Taha
Lebanese Native
Residing in Nabatiyeh – Lebanon
I am an educational consultant and former school principal. Working and playing with children is my passion especially when it allows me to share with them Arabic language and culture. I write Arabic poetry for youth, and in my spare time I like hiking, reading, gardening and working with my stamps.
Rafah Elias
Lebanese Native, Fluent in Egyptian
Residing in MD – USA
Working with children of all ages is my passion. I hold a B.A. in Special Education and I have been teaching Arabic and French for over 30 years, incorporating games, songs, and technology in the classroom. I swim, read, hike, listen to music, and make puzzles on my free time and I love to share the knowledge of the Arabic language and culture.
Robert Gemayel
 Lebanese Native
Residing in Jbeil – Lebanon
I am a Journalist, a Trainer, and a TV Content Producer holding a master's degree in communication sciences and digital media. I use the power of media to promote peace in Lebanon and the Middle East. I am thrilled to be teaching Arabic through interactive online sessions by sharing stories, and discovering topics of interest with learners of all ages. In my spare time, I love to practice Latin dance and photography.
Suzanne Kaedbay
Lebanese Native
Residing in Aley – Lebanon
As I recently finished my Bachelor in Architecture, I decided to pursue a Master in Restoration and started studying Archeology. I love historical site-seeing and museums visits. I also love nature and I regularly go on hikes. My hobbies are reading and cooking. I am excited to start teaching with Alefb to share my knowledge of the Arabic language and culture to children and adults alike.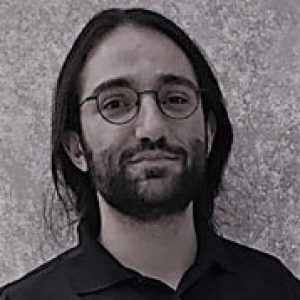 Ziad Eldanaf
Lebanese Native
Residing in Baalchmay – Lebanon
After completing a BA in Philosophy with a minor in Arabic Language and Literature, I am currently a Master's degree student in the department of Philosophy at the American University of Beirut. I am an instructor of Arabic at AUB's CAMES summer programs since 2018. Recently, I have been sharing my passion for astronomy to children, through the Cosmic Dome planetarium workshops in Beirut. I am an avid public speaker and I love soccer. I look forward to introducing my online students to the Arabic language and culture using the Alefb methodology, essentially based on learning by doing.